Professional Indemnity / Errors & Omissions for Games
GG Insurance Services is the leading global provider of comprehensive insurance solutions for the video game industry.
Tailored coverage, and deep industry knowledge that takes insurance to the next level.
Professional Indemnity for Games Companies
Looking for a reliable video game insurance provider that understands you? GG Insurance Services is the market leader for the industry. With our deep expertise and tailored solutions, we offer comprehensive coverage that safeguards your game development, publishing, and other gaming operations and related businesses.
Let us take the stress and uncertainty out of insurance. We are here to make your life easier.
What is the difference between Professional Indemnity (PI) and Errors & Omissions (E&O) Insurance?
These are different terms for the same thing, which can also be referred to as Professional Liability Insurance.
"Professional Indemnity" is more common in the United Kingdom and "Errors & Omissions" moreso in the United States and internationally.
While the specific terms and conditions can vary based on the insurance provider, policy and location, it is essential to carefully review and understand the underlying coverage offered to ensure it aligns with your specific needs as this can vary enormously between providers, (and is one of the many reasons for working with a specialist broker).
As games companies, you're pioneers of innovation, crafting immersive experiences for a global audience. However, even with the highest standards of quality and attention to detail, errors can occur, and allegations of professional negligence may arise. Here are some of the key features of Professional Indemnity Insurance for games companies:
Breach of Duty
Failure to meet professional obligations or standards of care.
Copyright Infringement
Costs towards defending accusations of copyright infringement from 3rd parties.
Cyber Liability
Coverage for your obligations and liabilities to 3rd parties for keeping their data secure.
Trademark Infringement
Costs towards defending accusations of Trademark Infringement from 3rd Parties.
Legal Costs
Insurance towards legal costs for defending a variety of situations (coverage dependant).
Professional Mistakes & Errors
Coverage for financial damages if a 3rd party (eg publisher) holds you responsible for work done.
There are many more features of Professional Indemnity (E&O) Insurance, which will vary depending on the underlying insurer and type of policy you choose. We will always explain the features and provide you with as many different options as we can so you can make an informed choice, and we recommend asking lots of questions and reading your policy wording.

Tell us about your business and let's discuss how we can protect you...
Talk to us today, we are very friendly, love the industry, and there is never any pressure to buy anything. We are here to help.
Frequently Asked Questions:
Please check out some of our latest articles, news and insights and consider signing up to our newsletter for all the latest news and tips on understanding risk and insurance for the games industry.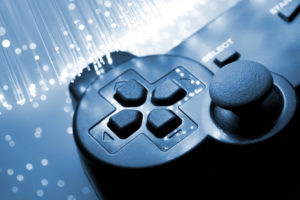 At GG Insurance, we understand the unique challenges faced by game developers and the importance of protecting your business from potential risks. That's why we
Read More »
Real-life examples of how our Professional Indemnity Insurance has helped games clients.
Disclaimer:
The exact circumstaces of a claim are always unique, and whether a policy will respond will depend on the nature of the claim, and the underlying insurer & policy wording.
These examples only provide a small snapshot of more complex underlying situations.
These examples have been heavily edited to protect the identity of our clients.

Our Insured, an indie game developer was working with a publisher towards releasing their game.
The game fell behind schedule and the publisher sued, alleging the developer breached their contract by failing to provide the agreed service and were therefore seeking just over £400,000.
The Insured claimed that the delays and unfinished app was caused by the claimant's failure to meet payment deadlines and provide data. The Insured's policy stepped in to meet the costs of defending the Insured.
Our client was providing concept artwork to a larger studio for an upcoming game.
This artwork made it into a trailer for the game and the studio subsequently received emails advising that another party owned the copyright to the artwork.
Insurers assisted our client in drafting a robust response and was able to successfully resolve the matter.
We received a claim for breach of contract relating to an agreement for rebuild of the Claimant's game engine by our client.

The Letter of Claim states that the software was not built in accordance with the specification and alleges losses of over a million.
Our insurers instructed one of our panel lawyers to defend and cover the legal costs of defending – and the case was subsequently won on behalf of our client.
What is Professional Indemnity Insurance for Games Companies?
Professional Indemnity Insurance is a critical coverage that provides financial protection for games companies against claims arising from professional negligence, errors, or omissions in the services provided. It is specifically designed to safeguard your creative vision, mitigate risks, and ensure the smooth operation of your business.
Why is Professional Indemnity for Games Companies Essential?
Comprehensive Legal Protection
Professional Indemnity Insurance offers extensive coverage, including legal expenses, settlements, or judgments, in the event of a claim. It protects your company's financial resources, allowing you to focus on what you do best – creating exceptional games.
Mitigating Errors and Omissions
Professional Indemnity Insurance provides vital coverage for claims resulting from errors, omissions, or professional negligence. It shields your business from financial losses if a client holds you responsible for financial damages due to flaws in game code, missed deadlines, or contractual breaches.
Enhancing Client Confidence
By having Professional Indemnity Insurance, you showcase your commitment to professionalism and client satisfaction. It instills confidence in potential clients, demonstrating that you have the necessary measures in place to address unforeseen circumstances, and sets you apart from competitors.
Meeting Contractual Requirements
Many game publishers require game developers to have Professional Indemnity Insurance before entering into contracts. By securing this coverage, you meet their contractual obligations, unlocking valuable business partnerships and opening doors to exciting opportunities.
At GG Insurance Services, we specialize in providing tailored Professional Indemnity Insurance solutions for games companies. Our experienced team understands the nuances of the industry and can assist you in effectively managing risks associated with professional liabilities. We work closely with you to assess your unique requirements and develop a comprehensive insurance solution that aligns with your specific needs.
Don't let unexpected claims jeopardize the success of your games company. Partner with GG Insurance Services to proactively manage risks, protect your professional reputation, and ensure the longevity of your creative vision. Contact us today to learn more about our industry-leading Professional Indemnity Insurance for games companies and secure a robust future for your business in the dynamic world of gaming.
Got a question or want to learn more?
We are always happy to chat and respond almost instantly