GG Insurance Services is more than just an insurance provider; we are passionate advocates for the gaming community, deeply committed to its success, and dedicated to its protection.
Our journey starts with a profound love for video games. Having worked in the insurance industry for many years, Phil Wildman noticed a gap in insurance expertise and support for the games industry…
As an avid gamer himself, he thought it might be fun as a bit of a "side project" to see if he could figure out how to use his insurance knowledge and connections to better support the industry and learn a bit more about how games were made.
GG Insurance was born, and the first step was to join UKIE, who were very supportive and gave us some sound advice when starting our journey (shout out to Sam Collins). Through their events and networking opportunities, we quickly grew our own network and knowledgebase within the games industry as well as the gaming legal community.
Today we price ourselves on our deep industry knowledge, and are able to way beyond what a normal insurance broker can do in terms of our risk advice, and connections in the industry. Also, with extensive insurance connections we really are in the best possible position to assist.
Whether you are a small independent studio that just wants some risk advice (prevention is the best medicine!), a major AAA studio that needs expert knowledge to translate the risks and liabilities in a complex IP Licencing contract, or a lawyer looking for insurance advice for one of your clients, we are here to help.
Who are GG Insurance Services?
GG Insurance Serivces is a division of General & Medical Finance Ltd, a Lloyd's Broker and, part of the General & Medical Group of companies.
General & Medical were established in 1988 and are an international, independent family-owned business. They have a broad range of insurance solutions, as both an insurance company in their own right and as an international Lloyd's Broker. Phil Wildman joined the family business in 2017, and in 2018 GG Insurance Services was founded, as a division within General & Medical.
The General & Medical Group have a number of companies, including a fully licenced subsidiary company based in the USA, G&M Insurance Services Inc. Which is able to work directly with our American friends and is currently licenced in most key states, including but not limited to; Texas, Florida, New York, Delaware, Washington, Oregon & California.
Integrity
This comes above all else. It forms the foundation of trust, honesty, and ethical behavior.
Industry Knowledge
We work with hudreds of clients around the world and deeply entrenched within the industry.
Professional​
As a Lloyd's Broker, we have access to the best products and conduct ourselves to the highest possible industry standards.
Passion
We don't just say we love games. We really do. Ask any of the team what they are currently playing (if you have a few hours to spare).
Service
We are deeply thankful for the opportunity to work with such a diverse and creative industry and treat every client like a celebrity.
International
With a global network, we can assist clients almost anywhere. And if we can't we will probably know someone in your local area who can.
Trusted
We are the trusted advisor to not just our clients, but share our expertise with many top industry lawyers and trade bodies.
As the gaming industry continues to evolve, so must we...
Leaders in Emerging Trends and Industry Education
At GG Insurance Services, we take pride in being pioneers in understanding and addressing the ever-evolving landscape of the digital entertainment space. Our commitment to staying at the forefront of emerging trends is unwavering. We recognize that the gaming industry is not static; it's a dynamic realm where innovation and transformation are constant.
Continuous Education
To ensure that our industry knowledge remains cutting-edge, we actively participate in legal symposiums, conferences, and forums dedicated to the gaming world. These events serve as valuable platforms where we engage with industry experts, legal professionals, and insurance specialists. By doing so, we not only gain deep insights into the unique risks and challenges faced by gaming companies but also share our knowledge with the wider legal and insurance communities.
Advocates for Risk Awareness
One of our core missions is to act as advocates for risk awareness in the gaming sector. We recognize that the gaming industry, with its intricate web of intellectual property, emerging technologies, and global reach, presents unique and often underappreciated risks. Our role goes beyond merely providing insurance solutions; we are educators, arming insurance companies and lawyers with the knowledge they need to better understand and serve the gaming world.
Identifying Trends Before They Mature
Our commitment to staying ahead of the curve means we can identify trends in the gaming industry before they mature into widespread challenges. Whether it's the legal complexities of virtual currencies, the evolving landscape of eSports, or the intricacies of user-generated content, we are prepared to address these issues proactively. This foresight allows us to provide our clients with insurance solutions that not only protect their current ventures but also position them favorably for future success.
Your Strategic Partner
In a digital entertainment space that is constantly evolving, trust GG Insurance Services to be your beacon of knowledge, innovation, and protection in the gaming world.
Access to the best insurers
Our extensive network of insurers is the backbone of our ability to provide swift and tailored insurance solutions.
With quick turnaround times and access to the best products and insurance markets available, we ensure that your gaming business remains agile and protected in the rapidly evolving industry.
This broad access allows us to negotiate competitive terms and conditions, offering you comprehensive protection that addresses the diverse risks faced by the gaming sector.
Furthermore, it positions us to stay ahead of emerging trends, providing you with future-proof insurance solutions that anticipate evolving challenges.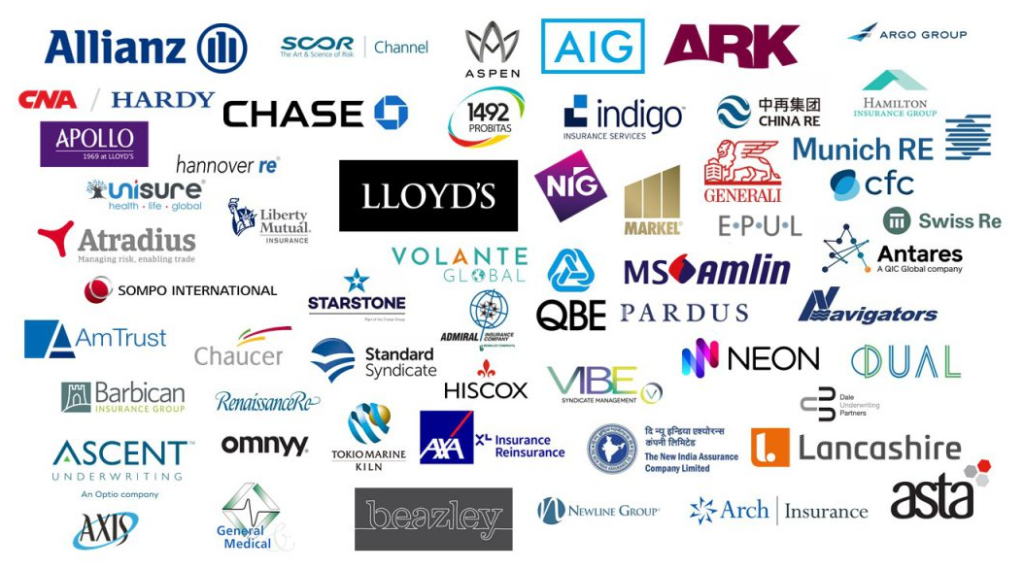 Get in touch to learn more about how our bespoke insurance policies can benefit your business today.
We are always happy to chat and respond almost instantly