Take the best photo with our GG mascot bear, aka 'Beary McBearface', and you could WIN a Nintendo Switch in our competition!
Beary McBearface has been travelling far and wide recently, but we're excited to be giving you the chance to join in the fun and take your own photo with our mascot.
Come and say hello and pick up your own GG Bear at any of the events we are attending this year (including Develop:Brighton on 11th-13th July) and take a photo to upload on social media with him, being as creative as you can ready for us to judge a winner from all entries received.
To enter, simply use the hashtag #GGInsurance on social media including your photo with your GG Bear – we look forward to seeing all of the entries and picking our favourite!
* Terms apply.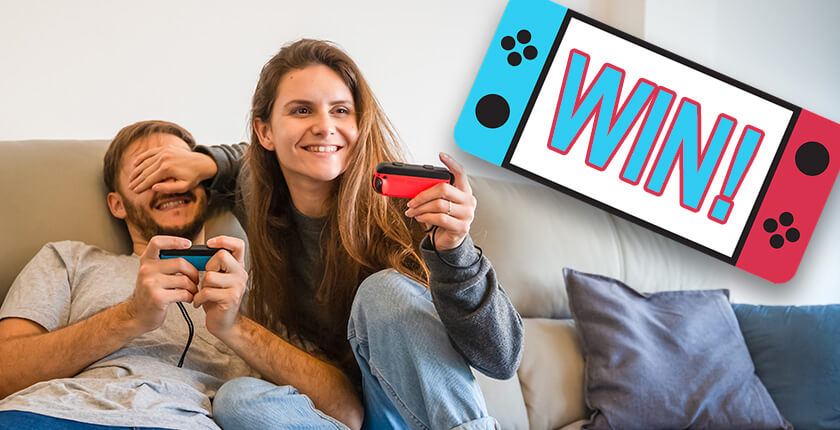 * Terms And Conditions.
Chance To Win A Nintendo Switch Competition
Your relationship with GG Insurance Services ("GG").
1.1 These terms of use set out the legally binding contract between GG and you in relation to the Chance To Win A Nintendo Switch Competition ("The Prize").
1.2. You will be deemed to accept these terms if you enter the competition with GG Insurance Services.
1.3 GG may make changes to these terms from time to time. The most up to date version will be available from GG on its website gginsurance.net. You should check the terms regularly and if you enter the competition after the date of any change it will be on the new terms.
1.4 GG shall use and take care of any personal information you provide to GG as described in GG's privacy policy, and in accordance with current UK Data Protection legislation, and will not disclose this personal information to a third party without your consent.
Chance To Win A Nintendo Switch Competition Rules
2.1 The Competition is organised by GG Insurance Services, General and Medical House, Napier Place, Orton Wistow, Peterborough, PE2 6XN.
2.2 GG reserves the right from time to time and at any time to cancel, discontinue, temporarily or permanently, or amend the Competition or these rules with or without prior notice (including, without limitation, in the case of anticipated, suspected or actual fraud).
2.3 In the event of any dispute regarding the rules, notice or conduct of the Competition, the decision of GG shall be final and binding and no other correspondence or discussion shall be entered into.
2.4 Every individual who enters the competition by using the hashtag #GGInsurance along with their photo/post on social media will be eligible for one entry into the Competition.
2.5 The Competition begins at July 2023 and closes in December 2023.
2.6 The Competition is for one 'Nintendo Switch' only.
2.7 The Prize will be despatched within 30 days following the Competition closing.
2.8 The Prize will be sent by post and GG accepts no responsibility for the product being lost, damaged or delayed in the post.
2.9 The Prize cannot be claimed retrospectively or used in conjunction with any other offer or promotion.
2.10 The Prize is non-transferable, non-exchangeable and there is no cash alternative. GG reserves the right to substitute a product of equal or greater value at any time. GG accepts no responsibility for any costs associated with the product and not specifically included in the product.
2.11 GG accepts no responsibility for any damage, loss, liabilities, injury or disappointment incurred or suffered by you as a result of taking out the insurance policy or accepting the Promotion. GG further disclaims liability for any injury or damage to your or any other person's computer relating to or resulting from participation in or downloading any materials in connection with the Promotion. GG accepts no responsibility for entries that are lost, delayed, damaged, misdirected or incomplete or cannot be delivered or entered for any technical or other reason.
General Legal Terms
3.1 These terms constitute the whole legal agreement between you and GG in relation to your entry of the Competition.
3.2 Nothing in these terms excludes or limits GG's liability for losses which may not be excluded or limited by applicable law. Subject to this, GG shall not be liable to you for any loss or damage which may be suffered by you in relation to your entry to the Competition, including indirect or consequential losses.
3.3 GG shall not be liable for any failure to comply with its obligations where the failure is caused by something outside its reasonable control. Such circumstances shall include, but not be limited to, weather conditions, fire, flood, hurricane, strike, industrial dispute, war, hostilities, political unrest, riots, civil commotion, inevitable accidents, supervening legislation or any other circumstances amounting to force majeure.
3.4 You acknowledge and agree that each member of the group of companies of which GG is a part may directly enforce, and rely upon, any provision of these terms. Other than this, no other person or company may benefit from these terms.
3.5 These terms, shall be governed by English law. GG and you agree to submit to the exclusive jurisdiction of the courts of England to resolve any legal matter arising from these terms.
July 2023